Intelligent operation of tempered glass with a yield of up to 99%
Main products: Tempering furnace, glass tempering furnace, with years of research and development and production experience
Suizhong Yuantu Technology: Breakthrough glass deep processing industry development bottleneck innovation win
---
Glass deep processing market after years of reform and survival of the fittest, gradually stable, some small enterprises with insufficient qualifications gradually disappeared in the public's sight, and become the mainstay of the major enterprises, the gap is not large, the industry sustained and stable development, how to make progress in stability, out of their own innovation and development path? Suizhong technology gives us the answer with strength and innovation.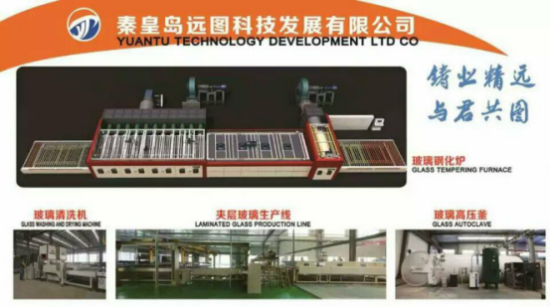 First of all, the reporter visited and investigated a glass deep processing enterprise in Suzhou, the company has 2 toughened glass production lines, the daily capacity of thousands of square meters, many places in the country have projects, products and even exports abroad, but in recent years, sales have been steadily stagnant, there is no momentum of steady development, and even some old customers no longer sign the order, the reporter asked the relevant person in charge to get some responses: "Because the power consumption of the tempering furnace is too large, the cost has been high, and now the power consumption of 5 mm glass tempering per square meter is as high as 4.5 degrees of electricity, the yield is not high, the product is not updated, and the technology is not upgraded. We are now actively looking for more energy efficient and more stable equipment to replace."
Subsequently, when the reporter visited a glass Co., Ltd. in Qinhuangdao, but saw a completely different scene, workers in the rush to work, products are also exported overseas, sales continue to rise, this glass factory innovation and safety series of glass products, including building glass, fire glass, special glass, etc., and asked why they produced glass is so popular, The person in charge is full of joy to reveal to us: "The popularity of the glass we produce is because of the good flatness of the tempered glass, the uniform particle size, and the low energy cost of the tempered glass." Here the person in charge also showed a happy color. "If a worker wants to do a good job, he must first sharpen his tools." The reporter found that the production line is Suizhong far Tu science and technology equipment, model YTP4224-DT energy-saving tempering furnace, the production of glass is not only good quality, but also tempered glass operating costs are low, which is the key for enterprises to win orders.
Then the reporter further investigation learned that Suizhong Far Map technology is a research and development design, production and sales, after-sales service as one of the enterprises, determined to do a good job of glass hot processing equipment one-stop service. The person in charge told us that Suizhong Yuantu Technology Development Co., Ltd. main products are glass toughening production line, laminated glass production line, etc., the company has more than 10 years of research and development and production experience. Customers at home and abroad, products are exported to the United States, Europe, Asia and other regions. With solid product technology and honest service attitude as protection, it is no wonder that it is so popular.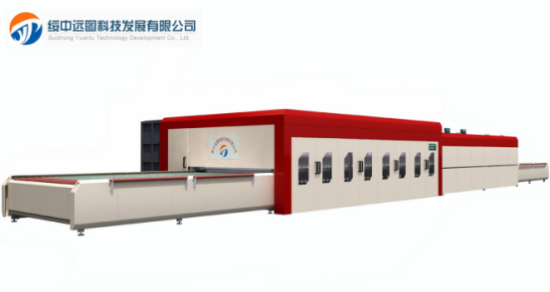 When it comes to glass tempering furnaces, there are many types: Radiation furnace, forced convection furnace, models can also be divided into flat bending dual-purpose tempering equipment, bending tempering equipment, continuous tempering equipment, two-way tempering equipment, hanging furnace, etc., and glass tempering furnace can produce many products such as building glass, door and window glass, curtain wall, shower room, automobile, home appliance industry, etc., the production of different products choose different models, The glass tempering furnace of Yuantu technology is energy-saving, efficient and environmentally friendly, which naturally provides the highest service for many glass deep processing enterprises and demand businesses, and also provides a reliable guarantee for the innovative development of China's glass industry.