Intelligent operation of tempered glass with a yield of up to 99%
Main products: Tempering furnace, glass tempering furnace, with years of research and development and production experience
A number of remote fireproof glass tempering furnaces put into use and the current fireproof glass market overview
---
Recently, Yuantu has intensively installed several fireproof glass tempering furnaces, and two fireproof glass tempering furnaces have been shipped by the end of this month.
The key word for glass deep processing in 2019 to 2020 is fireproof glass, which stems from the awareness of users, industry and the country about the potential danger of building fire.
Laminated fireproof glass and cesium potassium liquid fireproof glass have been done in the market, but the cost of laminated fireproof glass is high, and the fire performance of cesium potassium liquid fireproof glass is often difficult to meet the standard.
In 2018, Yuantu's technical team began to develop fireproof glass tempering furnace, and after several program discussions and improvements, the design scheme was finally finalized under the approval of General manager Wu Ying. In early 2019, Yuantu's first fireproof glass tempering furnace was commissioned and produced. And a one-time successful production of qualified high-stress monolithic fireproof glass, the first 5mm glass detection through the 60-minute fire test.
This is Yuantu's first fireproof glass special tempering furnace, but also the industry's first fireproof glass special tempering furnace.
At present, there are 12 units of far-image stove delivered to customers, which are or will be creating a steady stream of profits for customers.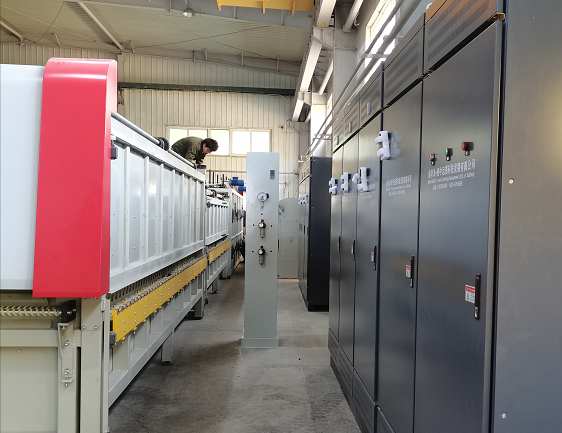 (Figure: Remote two-chamber fireproof glass tempering furnace under installation)
After more than a year of market development, with the increase in supply on the market, the price of finished products has fallen from the market peak, and is currently in a more rational position.
The profit of a single piece of high-stress fireproof glass is higher than that of ordinary tempered glass, but it is not too high; Compared with cesium potassium fire prevention, the user has a high acceptance; At the same time, due to the high capital and power requirements of fireproof glass tempering furnace, it has a certain threshold and is difficult to reach saturation state; These reasons ensure the profit, position, and predictable increase in sustainable demand for single-piece high-stress fireproof glass in the market.
At present, the new fireproof glass tempering furnace in the glass deep processing plant is still a good window. Yuantu fireproof glass tempering furnace, has repeatedly passed the market verification, mature technology, easy to use, high quality of finished products, high yield, is a reliable choice for customers. Inquiries are welcome.